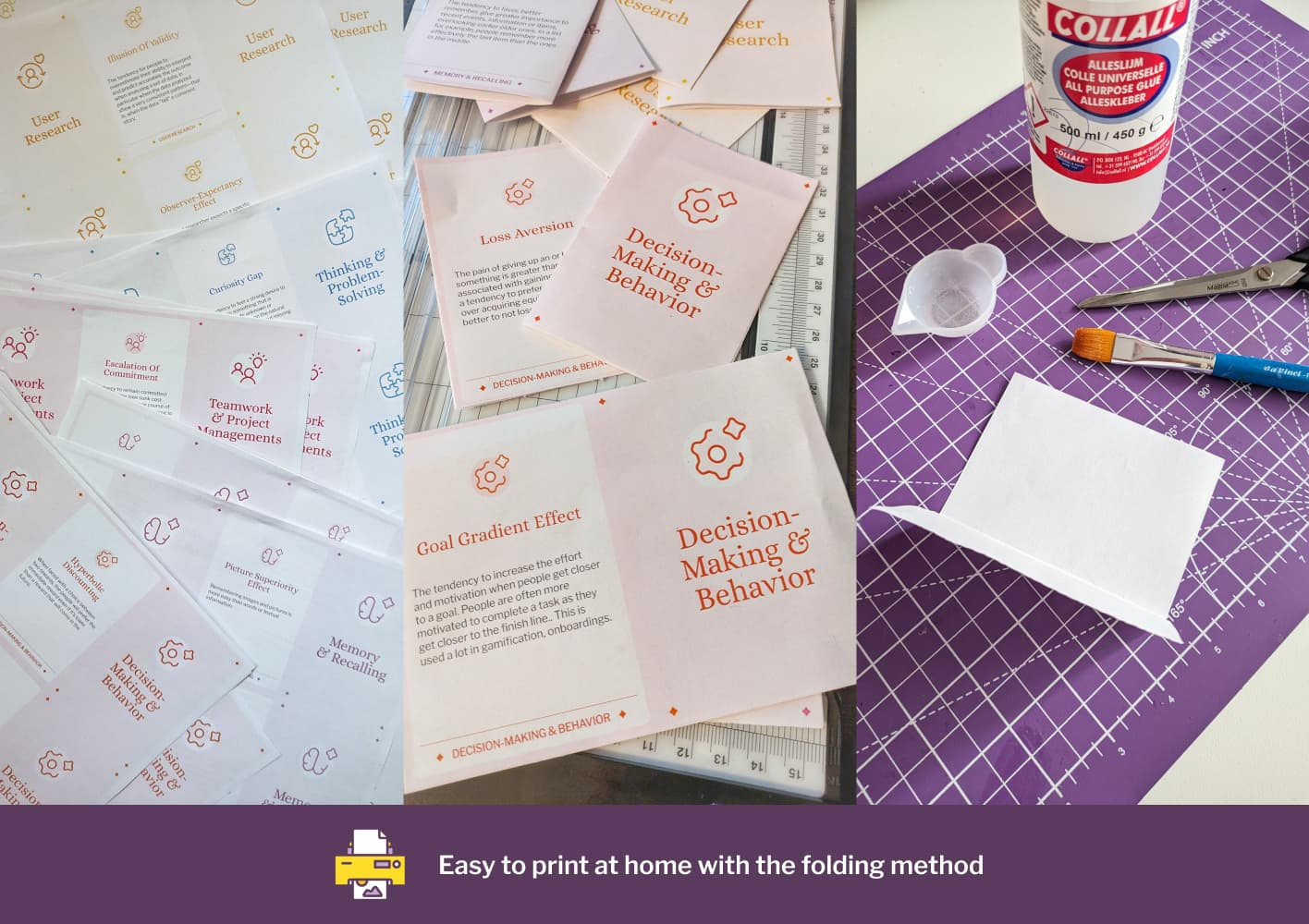 Cognitive Biases - 60 Ready to Print Cards & Workshop Instructions
Preview
Whether you are creating the user experience of an interfaces or purchasing something online, it's important to be aware of different cognitive biases that will impact people's behavior. Did I use an anchoring bias in this product pricing? Maybe...
We (Laurence Vagner and Stéphanie Walter) carefully selected 60 out of the complete list of biases and organized them into 5 categories: User Research, Decision-Making & Behavior, Teamwork & Project Management, Memory, Recalling & Perception, Thinking & Problem-Solving. Each card comes with an easy-to-understand description of the bias in that category. More on that on my blog.
The pack contains both 60 cards, and instructions for a custom workshop we created specially for those cards. It's an excellent resource to help your teams, your students become more aware of different biases that affect product and service design, from research, team behavior to using biases used in interfaces.
How can you use the cards
Follow our workshop instruction (or build a brainstorming session on your own) to raise awareness about biases within your teams
Keep the cards as a pocket sized mini library of biases, on your desk. For example: use them to double-check your colleague's biases when they create user research artifacts. It's easier to detect biases in other people than your own (that's a bias in the list, by the way)
Use this as a nice, visual teaching tools, to help your juniors, mentees or students better understand biases
This resource contains:
A .zip file, with the deck of 60 ready to print at home cards (.pdf) in different formats (2 sided printing and folding printing method) and instructions on how to print them at home
A guide on how to use the cards, including instructions for a group workshop you can re-use according to the licence (.pdf)
I also have a Cognitive Biases - Ready to Use Digital Workshop (Miro and Figjam) version of the cards, if you want to do a remote workshop. You get discount if you buy both (discount automatically calculated in your cart)
Licence for the content:
What you can do:
Use the cards for your daily professional work or at school if you are a student. You can also use it for teaching purposes at schools or universities.
Run a workshop with your colleagues at work internally. Run a workshop with your students (school or university) as long as the workshop is NOT the only part the course.
Refer this content to other people by sending them a link to the product page
Credit us as the author: "Created by Stephanie Walter (stephaniewalter.design) & Laurence Vagner (redisdead.net) ". Do not credit us in any way that suggests I endorse you or your use of this material.
What you can't do:
You can't sell resell this workshop as stand-alone training, present it at a conference*, or use the cards to run a workshop where only the cards are used. If you want to run the workshop as stand-alone training, please contact us.
You can't copy the sold content or reproduce it in any way. 
You are also not allowed to redistribute the sold content on your own site, or any other site.
You are not allowed to resell this content, or derivative products that directly copy this content (for example you can't sell physical copies of the content, or copy it and sell it on your blog or shop)
You can't delete the copyright or other proprietary rights notice from any Content.
* If are doing open source and free events, please reach out via my contact form you can use this.